Author: Nick Rankin
Created: 04-02-2014 20:35
Modified: 06-06-2020 12:04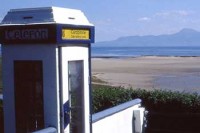 A photograph from 20 years ago (Aug '94) with Telecom Eireann's Cardphone branding. Credit: Sludge G/Flickr
Throughout the years Telecom Eireann and Eircom implemented four different Cardphone hardware models. Initially starting off with separate coinphones and cardphones Eircom was to later bring out a hybrid coin and card payphone, which is still in use today. The Cardphone manufacturers used over the years were produced by both Schlumberger and Landis and Gyr.
In the image to the left you will see a Telecom Eireann cardphone. This is identifiable by the yellow sign. This sign stated "Telecom Eireann Cardphone - Calls without coins".
Four different models supporting are known to have been used by Telecom Eireann and later Eircom.
Read more...