Author: Nick Rankin
Created: 28-11-2015 15:45
Modified: 06-06-2020 12:44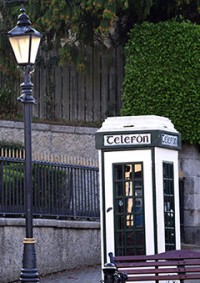 Pictured: Traditional style Irish phonebox. Photo credits: Kilgarron
A question I am quite often asked, do Callcards still work? The answer may surprise you. Callcards lost popularity back in the late nineties due to the increase in affordable mobile phones. Gradually shops stopped stocking Callcards and Eircom (now Eir) started to decrease the number of public payphones.
By the end of 2009, Eircom have already removed half of all phoneboxes. The current payphone type Eir implemented back in the early '00s function as both a coin and card payphone. Even to this day the cardphone functionality is still active. This means that Callcards with remaining units can still be used today!
Just after the millennium Eircom produced a new variety of Callcards, rather than the Callcard containing a Unit for credit, a cash value was used instead. Prior to the euro changeover earlier Callcards displayed the price in Irish Punts (£) and can be seen on the early Simply Talk series.
This in itself brought some interesting changes. Rather than blocking earlier Callcards with Unit denominations eircom decided to convert the Unit values to cash ones. As a result of this changeover the Callcards value was changed as below:
5 Units – N/A
10 Units - €4.00
20 Units - €7+€3 Free
50 Units – €15 + €10 Free
100 Units – N/A
Read more...