Callcard Chipsets
---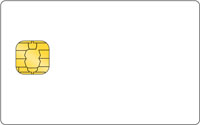 This guide to the chipsets used on Telecom eireann and Eircom Callcards will allow you to easily identify the different chipsets used on various Callcards produced. These small EPROM chips are factory programmed with a set amount of units, in quantities of 5, 10, 20, 50 and 100 Units for the consumer market. These units are stored in a protected area of the chipset, and after programming a fuse is blown to ensure that while erasing is possible, recharging is not.
It should be noted that some test cards did contain more than 100 units, however these were never available to consumers. In theory a chipset could store hundreds of units, some of the modern chipsets could store thousands. Smart cards with chips are still used in a wide variety of applications today, including banking cards, mobile phone SIM cards and building access cards.
This guide will offer a brief introduction to the companies who produced the chips, and also visual images to help with chipset identification.
Another point to note is that not all manufacturers produced their own chips. It was quite common for manufacturers to use chips produced by companies such as Siemens. Schlumberger produced all their own chips.
Gemplus
Gemplus, a Luxembourg based company produced the Chipset used on many Telecom eireann and Eircom Callcards. Gemplus merged with Axalto, another smartcard company and in 2006 became Gemalto.
The Gemplus GEM1 chipset was used by Telecom eireann and eircom on many of the Callcards that were issued. The Gemplus chipset featured in all definitive Callcard sets Telecom eireann produced and was the chip that was used on the last ever Eircom callcard to be produced, the last issued Callcard.
Hundreds of Telecom eireann and Eircom Callcards used the Gemplus chipset, including:
Teddy, Rock of Cashel, All Ireland hurling, All Ireland Football, Limerick Treaty, Kellogg's and the final issue Callcard.

GEM1

Axalto/Gemalto (Gemplus) AX01
Schlumberger
Schlumberger are a French company whose chipset was used on a wide range of Callcards produced by both Telecom eireann and Eircom. In 2001 Schlumberger's smartcard division merged with Axalto. Interestingly in 2006 Gemplus International also merged with Axalto to form Gemalto. As a result of this merger Schlumberger no longer produce smartcards and chipsets.
Schlumberger produced many different varieties of chipsets, and these varieties were very recognizable on the cards.
As pictured Schlumberger used the following chipsets on Callcards:
SC4, SC5, SC6 "Butterfly", SC7 and later SL7
Many Callcards Telecom eireann and Eircom released use Sclumberger's chipset, including:
IMI New way for the Nineties, Royal Hospital Collectibles Fair, Ford Mondeo, Eagle Star, Tarzan set
From left to right: SC4, SC5, SC6, SC7, SL7 chipsets

SC4

SC5

SC6

SC7
NB: both SC4 and SC5 chipsets are very alike. To identify the chip check the contacts on the side. SC4 has narrower contacts compared to the SC5 chipset. It is common to find gold and silver versions of these chips.
ODS (Oldenbourg Datensysteme)
ODS were a German chipset manufacturer, part of the well-known Swiss company Landis+Gyr. Interestingly Landis+Gyr produced optical phonecards which were used during the Galway field trial.
Throughout the years many Callcards were produced with the ODS chipset, including some very interesting designs including a fully transparent card for the Callcard Collector's Fair in 1999 and a special "moving" holographic fair card for the Fair in 2000.
Like Schlumberger ODS had different revisions of chipset spotted on Irish Callcards. These were:
ODS1, ODS2, ODS3
Some cards featuring the ODS chipset include:
Michael Collins, Jervis Shopping Centre, Fair Card 1999 and the Telecom eireann Blank Promotion card.
From left to right: ODS 1, ODS2, ODS3

ODS1

ODS2

ODS3
NB: Both ODS2 and ODS3 chipsets are very alike. Observe the large and small shape in the chipsets centre to identify these chipsets.
Solaic
Solaic, a French chipset manufacturer produced just two test Irish Callcards, one which used the infamous Cottage design. The Solaic chipset was never used on generally issued Callcards and was in fact only used to test a train based cardphone system on certain Iarnród Éireann trains. This trial took place in 1994, and just 350 members of the public tested these phones.
To find out more about this trial please click here.
The Solaic chip was only used in Ireland on a special trial Callcard. The chipset used was the Solaic SO3. This Callcard is known as the "Black Back Cottage" card, as the details on the reverse of the card were printed in black, while a navy/blue colour was used for all other cards.

Solaic 03
ORGA
ORGA were a German chipset manufacturer, who produced just one Irish Callcard as part of a public trial. This card was issued using the "Irish Horse Racing" design, and a limited issue of 50, 000 cards were issued to the public over two print runs.

ORGA
McCorquodale
This chipset was only ever found on a test card issued to cardphone engineers. This Callcard used the "Irish horse Racing" design.

McCorquodale
---
Leave a comment...
There are no comments yet.