The story of the Telecom eireann Callcard
---
Before Callcards became an iconic symbol of nineties Ireland, an advanced trial and rollout took place by Telecom eireann in the late eighties. This roll out saw trials conducted in cities Dublin, Galway and Limerick.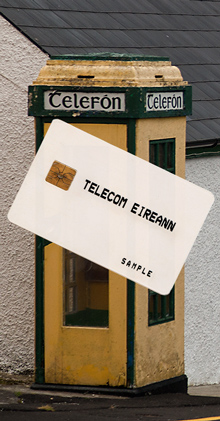 Pictured: Old Irish cardphone along with Third Gemplus demonstration card. Photo credits: Greg Clarke
The cards tested during these trials relied on magnetic and optical strips which held the credit or "units".
Introducing the chipped Callcard
After the short 2 year trial Telecom Eireann decided to test the relatively new chip based smartcard technology for their Callcards. These cards were durable, modern and most importantly more secure. In a bold move by Telecom Eireann Ireland became one of the first countries in the world to implement chipped phonecards. These cards were more expensive to produce than magnetic or optical cards.
Prior to the nationwide Cardphone rollout many cards were produced by different manufacturers to test that their cards would be compatible. These cards were usually marked "SAMPLE" or "TEST".
Unlike private Callcards test cards were never available to the general public. They were produced in very limited quantities and provided to engineers in charge of maintaining and deploying the cardphones. As these test cards were never intended for public access they mostly contained very plain designs. Some also had larger unit values than available to the general public, including 120 and 150 units for example.
The first known test cards were produced by manufacturers Schlumberger and Gemplus. These were catalogued as Telecom Eireann Demo 1, Telecom Eireann Demo 2, and Telecom Eireann Demo 3 "Ireland's First Callcard" (pictured). These cards, particularly Demo 1 and 3 are extremely rare. Many test cards, particular the early ones were returned to the manufacturer after testing was conducted to be retested and then destroyed.
Subsequent test cards were issued by ORGA, McCorquodale and Intel. Of the three only the ORGA chipset saw a limited public test release – The Irish Horse Racing card.

The Iarnród Éireann train trial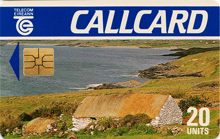 Pictured: The Black-Back Cottage (Train Trial) test Callcard.
In 1994, Telecom eireann partnered with Iarnród Éireann installing cardphones on certain trains throughout Ireland. A limited public trial of the service was conducted, however due to technical problems the project was abandoned.
A test card was produced featuring the Cottage design and using the Solaic SO1 chipset. Only 1, 000 of these test cards were produced and only 350 were used during the trial period. The remaining 650 cards were sold via the collectors club.
This test card was unusual, as the rear was printed in black instead of the blue/navy Telecom Eireann always used. This earned the card the title "Black-Backed Cottage".
The Service Callcards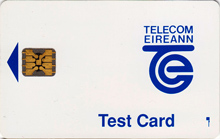 Pictured: Telecom Eireann Test Card
Differing to Test cards Service cards were used by cardphone engineers to ensure the phones were able to read and erase units on the phonecards. Like with Test cards many service cards contained very minimal designs, most completely blank.
Interestingly many test cards issued to engineers could not be used to make calls. Instead the engineer had to open the phone and press an internal button to erase a unit.
Can you help?..
If you worked for the Telecom eireann or Eircom payphone department or as a contractor we'd love to hear from you!
Do you have any Telecom eireann or Eircom test cards? While IrishCallcards.net has scans of many of the test cards we are always looking for more.
Please get in touch with Contact today if you would like to contribute any scans, callcards or information!
---