Author: Nick Rankin
Created: 26-03-2013 13:15
Modified: 06-06-2020 13:07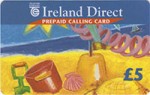 While many Callcard collectors may have taken little to no interest in collecting prepaid phonecards, there have been many very interesting examples of Irish prepaid cards produced. Prepaid or Remote memory Phonecards were not inserted into a cardphone during use, instead they used a secret PIN Number which would be revealed on the rear of the card in conjunction with either a Freephone or low call number.
The user would dial the number printed on the back of the card and then key in their secret PIN identification number to verify their balance. They could then proceed to make a call on any supported phone, not being limited to cardphones like Callcards were.
In the early nineties many telecom companies in Ireland, large or small produced and sold these phonecards, many of whom made special editions to mark particular events, advertise various businesses similar to what Telecom Eireann and Eircom had done with their Callcards.
This blog post is going to cover some examples of interesting pre-paid phonecards, companies which produced them early on and also how remote memory technology is still very much in use today.
Read more...