The Beginning
---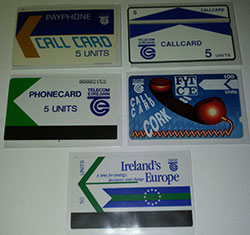 Telecom Eireann first introduced phonecards into the Republic of Ireland in the year 1988. The brand name chosen for these cards was "CallCard". Telecom Eireann, Ireland's state-owned telecommunications company became privatized in 1999. Subsequently the name of the company was changed to Eircom.
During the beginning of Telecom Eireann's phonecard roll out, they launched three magnetic phonecard trials in different cities around Ireland. Each of these three cities also used different card systems as part of the trial. These systems were:
GPT (Plessey) – Dublin trial cards introduced in the year 1988
Autelca – Limerick trial cards introduced in the year 1988
Landis & Gyr – Galway trial cards introduced in the year 1989
Special promotional trial cards were further produced using the GPT and Autelca card systems, which had far fewer cards produced. The Cork FITCE convention card, which was an official overprint of the GPT test card, was issued to delegates at the FITCE conference in Cork 1988. 960 of these cards were issued. Surplus FITCE cards were briefly sold in Dublin after the conference.
In 1989, two Autelca IMI Callcards were issued to delegates at the Ireland's Europe IMI Conference, which Telecom Eireann sponsored that year. These cards were produced in very low numbers, 250 were made with 20 units and 750 were made with 50 units. Read all about the IMI Callcards in the blog post here!
It should be noted that the IMI trial Callcards are extremely rare, particularly the 50 unit card. While some of the 20 Unit IMI Callcards were sold to the public after the conference, all of the 50 Unit Callcards were distributed at the Conference. The majority of the 50 unit cards were dumped by hotel staff after the conference. Some delegates did keep their cards, and following subsequent media interest located their cards. Unfortunately these cards were generally kept poorly at the bottom of filing cabinets, inside wallets etc. affecting the condition of the cards substantially in some cases. As the 20 unit card was sold briefly to members of the public, it's value is considerably less in comparison.
---
Leave a comment...
There are no comments yet.