Where to buy, sell or swap Callcards?
---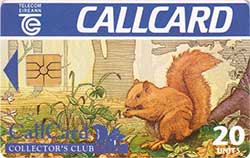 These days, Callcard collecting still remains quite a niche hobby. While in the past there would have been a plethora of Phonecard dealers, nowadays the number has decreased substantially.
Irish Callcards have always been a favourite amongst phonecard collectors, presumably as so few of each Callcard was produced and the amount of Callcards issued far less than larger countries.
As a result Irish Callcard collecting still does attract both Irish and international interest among collectors.
Some useful resources for either selling or purchasing Irish Callcards include:
Note to international buyers: Adverts.ie is a local Irish classified ads website, where many users will only entertain offers from people within the Republic of Ireland.
---
Leave a comment...
Reply - Hello, iv come across 4 folders of ... (Jump to comment)
Reply - Hi Laura, I'd love to see what you ... (Jump to comment)
Reply - Got a full album of callcards that ... (Jump to comment)
Reply - Got a full album of callcards that ... (Jump to comment)
Reply - Hi I came across my old collection ... (Jump to comment)
Reply - Hi, I am looking to expand my colle... (Jump to comment)
Reply - Hi, I am looking to expand my colle... (Jump to comment)
Reply - Hi, my father in law recently passe... (Jump to comment)
Reply - Hi I came across my old collection ... (Jump to comment)
Reply - Hi I came across my old collection ... (Jump to comment)
Reply - Hi,  I have a folder of used call ... (Jump to comment)
Reply - Hi,  I have a folder of used call ... (Jump to comment)
Reply - Hi David Send me an email of what ... (Jump to comment)
Reply - Hi,  I have a folder of used call ... (Jump to comment)
Reply - Hi I also recently came across my c... (Jump to comment)
Reply - Hi I also recently came across my c... (Jump to comment)
Reply - Hi I also recently came across my c... (Jump to comment)
Reply - Hi, I recently came acro... (Jump to comment)
Reply - Hi, I recently came acro... (Jump to comment)