Definitive Callcard sets
---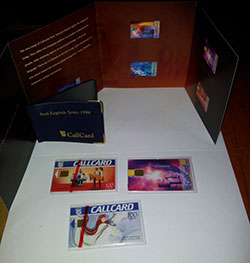 Both Telecom Eireann and Eircom released definitive ranges of Callcards. These definitive cards were quite common to find, as they generally had very large print runs. There were some exceptions to this rule, particularly when is comes to the earlier and later sets, as well as some chipset variations.
As Definitive cards were typically produced and run continuously for 3-4 years, numerous varieties of these cards have been produced. Varieties include different chipsets, addresses, batch information etc. included on the card. For example the Cottage definitive Callcards have at least 60 known varieties! The Cottage card was produced between 1991 and 1994.
As can be seen in the picture, some definitive sets were available in special collectable wallets and cardboard sleeves. This wallet pictured is entitled "Irish Legends Series 1994".
The Definitive sets include:
Culture and Landscapes
5 Unit - Teddy Bear
10 Unit - Irish Horse Racing
20 Unit - Cottage
50 Unit - EC City of Culture and Trinity College Dublin
100 Unit - Rock of Cashel and An tOireachtas Dancers
Irish Legends (Mythology) Set
Comprising of four different phone cards, this set contained:
10 Unit – Niamh from Tir na nOg
20 Unit – Aoife and the Children of Lir
50 Unit – Deirdre of the Sorrows
100 Unit – Oisin Returning from Tir na nOg
Culture Set
Comprising of five different cards, this set contained:
5 Unit – Tourism
10 Unit – Literature
20 Unit – Music
50 Unit – Science
100 Unit – Economy
Productivity "With us" set
Comprising of five different cards, this set contained:
5 Unit – Work With Us
10 Unit – Grow With Us
20 Unit – Live Life with Us
50 Unit – Relax With Us
100 Unit – Learn With Us
Simply Talk
Eircoms final definitive set, this set consisted of five different Callcards, however used cash values instead of units. As this set was released just after the year 2000, earlier Simply Talk cards use both Irish Punt and Euro denominations
£3 Simply Talk and €4 Simply Talk
£5 Simply Talk + 20% Free and €7 + €1 Free Simply Talk and €7 + €3 Free Simply Talk
£10 + 50% Free and €15 + €5 Free and €15 + €10 Free and €15 Orange phone
---
Leave a comment...
There are no comments yet.